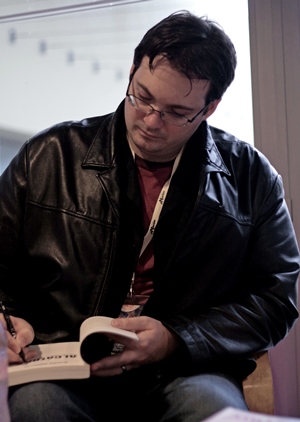 Potete leggere questa intervista in italiano cliccando qui!
We've reached Brandon Sanderson, one of the most important American fantasy author, and we've had a little talk about his books (and their recurring themes), about the way he approaches his works, and – generally speaking – about the present state of fantasy literature. Here is our interview with him!
Your novels or novellas, since the beginning of your career, have been set in a high fantasy world, yet somehow you manage to maintain a certain degree of realism. Can you tell us about your Three Laws, and how do you achieve those kind of results?
I feel that these two questions are somewhat separated. The realism in my novels is mostly tied to characters. This is one of the strengths of epic fantasy, that it can have a fantastical world and a really imaginative setting, while maintaining characters who are struggling with real conflicts. What this shows us is that human nature and human conflict transcends cultural barriers, and that is part of what I love about epic fantasy.
Now, I do try to write magic systems that feel like new branches of science, as opposed to something more whimsical. That's not to say that I dislike the whimsical magics; there are some great ones out there. But for my own tastes, and to enhance this realism, I like it when the reader says, "You know what? This feels like this follows the scientific method. Thiis feels like if I knew everything about this it would even obey the laws of thermodynamics. I just don't know how it's interacting with that." I like that sense.
Science is cool, and science is magical when you really get into it. It's full of wonder and exploration. So I try to replicate that in my fiction. One of the ways I do this is by following a few rules for myself. Sanderson's Laws are not laws that I think everyone has to follow, though I hope that the essays about them are useful to people as they inspect them. Sanderson's Laws are rules that I use to help myself make my magic systems feel more real. There are three laws right now, though I have a fourth one in the works. They all deal with the concepts of making sure that you're foreshadowing your magic correctly, that you're looking at all of the different ramifications of your magic, and that you're highlighting the limitations of the magic to restrain both yourself and your characters and to force them to be a little more creative, to resist the urge to just solve everything by inventing a new rule. You can read these essays on my website, and they go into a lot more depth.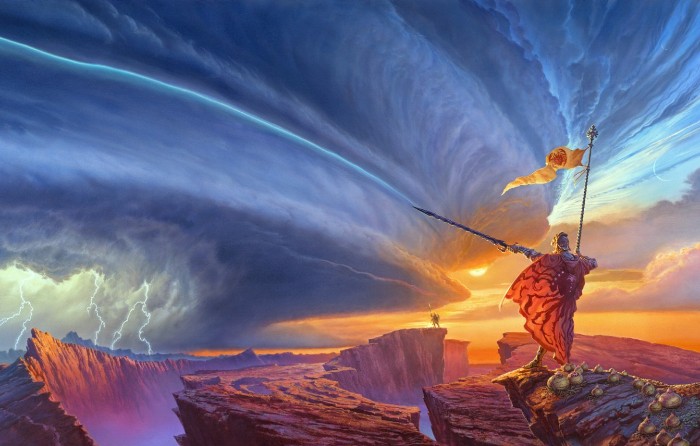 What are your main inspirations and models for your style and your works in cinema, literature, and video games? Is there any author that you feel particularly close to your style?
The author right now who's closest to my style is Brent Weeks. I think that he and I grew up reading the same books, and as we have had much the same reaction to fantasy, we're approaching magic and storytelling in similar ways. He's a really great writer, so all of you should read his books.
It's very hard to name one defining influence. Certainly Robert Jordan had a huge influence on me as a writer. Anne McCaffrey – who was one of my favorites writers when I was younger -, Melanie Rawn, Tad Williams, Guy Gavriel Kay. There are a ton of different things that inspire me, such as video games. I love video games. Playing the Zelda games and the Final Fantasy games growing up can't help but have had a huge impact on myself as a writer and how I approach my storytelling. But it's all interwoven together. It's all this big mishmash of pop culture in my head that makes me excited about certain things and drives me to push myself in certain areas to do things that I haven't necessarily seen before, not to say they haven't been done before. It just means that my personal soup of pop culture says, "Hey, there's a hole here. Why don't you explore there?"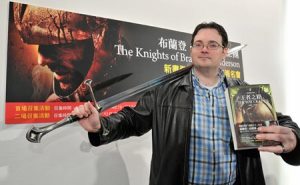 Can you tell us about your multi-tasking approach to writing, which readers can follow directly on your blog?
I tend to only write on one new project at a time, but I'm generally planning several others and editing something else. So for instance, right now I am writing 'Calamity', the third book of 'The Reckoners'. I am working on the outline for 'Stormlight' book 3, and I am getting ready for revisions on 'Shadows of Self', the new 'Mistborn' book. I always want to have some book I'm working on that I'm writing new fiction for, because that's the most exciting part of the process for me. But to stay as productive as I do, one of the things that I do as a writer is to jump projects. When I finish one project, I want to start writing something that's new and different from what I was just working on. That drives me to jump between worlds and stories.
This next question references the 'Infinity Blade' projects with god kings and then brings up the emperor in 'Mistborn' and 'Warbreaker', and the Elantrians, and 'Steelheart'. The question is, can we say talking about god kings is a recurring theme for you, and can you tell us why?
It certainly is. One of the themes of fantasy is the idea that one person can make a difference. In our world, it's a lot harder for us to see that the things we do can actually make a difference. They totally do, but it's far more subtle. In fantasy, one of the things that a writer can do is to take some concept, like one person making a difference, and really highlight it. We can bring that out to the extreme. I think that the concept of an emperor or a king is a big theme in fantasy all around for this reason.
Now in the Cosmere, which is my shared universe of epic fantasy stories, the idea of a person who has a lot of magical power is a theme of the whole Cosmere. What do people do with the powers of god when they're given them and set loose? Some people are going to end up like the Lord Ruler. So I keep coming back to this concept, because I find new ways to approach it. 'Infinity Blade' is interesting in that I came onto this project after they had written the first game, which they said had been partly inspired by reading books of mine. In that case, the god king popped up because they enjoyed my works, saw me dealing with this trope, decided to try to deal with it themselves, and then brought me on and said, "Hey, can you help us with our story?" So it became a fun reverse look at the process.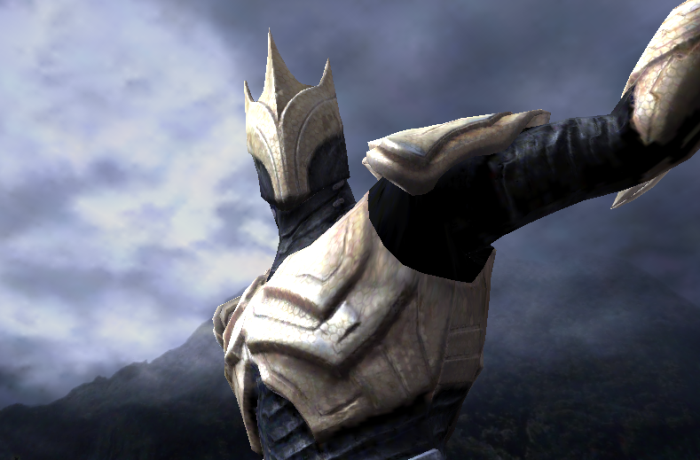 What do you think about the present state of fantasy, both in the USA and worldwide? Is people's opinion about fantasy novels and role playing games actually changing?
I really do think it is. It's slow. In certain parts of the world it seems to be slower than in others. But we're in a really good place. The things that we have been reading in books for years, the general public is now experiencing in film, because the special effects have caught up. And so people are experiencing all the stuff that we've loved, and they're saying, "Wow, this stuff really is cool." Books have a steeper learning curve. By that I mean it's a little bit harder, when you pick up an unfamiliar fantasy book, to get used to all the new names and all the new places. Film overcomes this with powerful visuals, and draws a lot more people into the genre.
The fantasy book market is very exciting, because what was once a lot more homogeneous, with a lot of the same types of stories being told, has faded, and we're getting a lot of different voices telling a lot of different, interesting types of stories. I like this. I like that we're seeing more European writers making it to prominence in the fantasy genre. I like that we are getting more authors of African descent whose books are gaining more prominence. I think it's just going to be stronger for the genre as a whole, because what it does is it make more variety, which helps us as readers find more wonder and exploration in our books.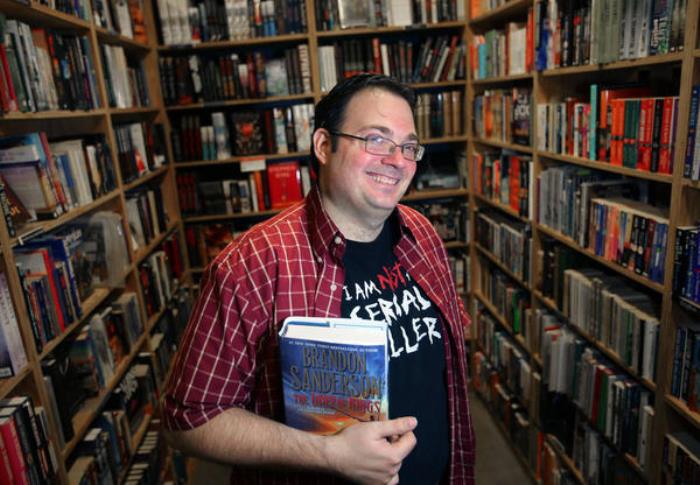 We do thank Mr. Sanderson and his Executive Assistant Mr. Adam Horne for their kindness in answering this interview and we hope to read some more of Brandon Sanderson's novels as soon as possible!
– Stefano Marras –
Potrebbero interessarti...

Abbiamo completato la lettura di Oathbringer, terzo libro de Le Cronache della Folgoluce di Brandon Sanderson: ecco cosa ne pensiamo!

Brandon Sanderson sta collaborando con Arcturus XR Studio per trasformare il suo "La Via dei Re" in un'esperienza di realtà virtuale.

Lo scrittore Brandon Sanderson è inarrestabile: nonostante le sue diverse saghe in corso, è pronto al lanciare il suo nuovo progetto, Skyward!
Interview with Brandon Sanderson!