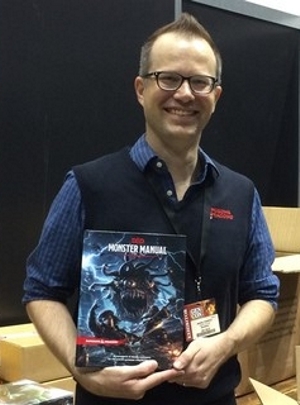 Potete leggere la versione italiana dell'intervista cliccando qui!
Jeremy Crawford, creator of D&D fifth edition along with Mike Mearls, will be one the guests of the next Lucca Comics and Games 2015, in which he will master an adventure (Ravenloft setting) written by himself for this occasion. Considering the good relation between the american author and Isola Illyon, we asked ourselves: why don't ask him for a full pre-fair interview? No sooner said than done: Jeremy answered us with the usual helpfulness and that's the result. A scoop chat on fifth edition of The King of the RPGs, Dungeons and Dragons, with enjoyable previews and uncommon considerations.
Hi Jeremy and welcome again on Isola Illyon! You're working, among other things, on the new Sword Coast Adventurer's Guide. Could you reveal in advance something new about it to our readers?
Hello everyone! I'll reveal two things! The book introduces the Purple Dragon Knight as a martial archetype for the fighter class. The archetype is an inspiring battlefield commander, who can occasionally grant healing and extra attacks to allies and who is exceptionally good at diplomacy.
Also, the book offers a new Arcane Tradition option for the wizard class: Bladesinging. Following an ancient tradition of the elves, a bladesinger combines spellcasting with weapon use. If you're familiar with the Eldritch Knight in the Player's Handbook—a warrior trained in the arcane arts—you can think of the bladesinger as its mirror image: a spellcaster trained in the art of war.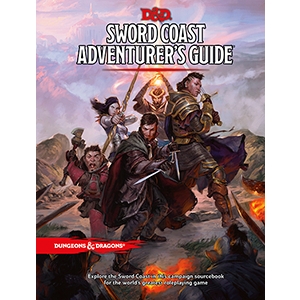 Sword Coast Adventurer's Guide will be the first "geographical" module of the new edition, with the exception of some campaign building informations given in the campaign modules until now. Will there be other modules of that kind, maybe about other locations of the North or part of Faerun?
We'll continue to introduce world information as part of our adventures, since often the best way to get a feel for a world is to see stories unfold within it. That said, we're open to doing a variety of books for the game in the coming years—a mix of adventures and other things—and haven't ruled out doing additional setting-oriented products. Whatever we create for the game, we have an overarching goal: that the material have a good chance of being used in play.
In Sword Coast Adventurer's Guide, will there be locations, characters and plots that we can find also in the very recent digital CRPG Sword Coast Legends?
The book and the video game do tread some of the same ground, as a result of both being set on the Sword Coast. I can imagine a player of Sword Coast Legends wanting to learn more about the region and therefore delving into the book, and I bet players of the tabletop roleplaying game will want to dive into a video game that takes place on the Sword Coast. But both products stand on their own.
Sticking with Sword Coast Legends, the game was just launched. What will you expect from this title, as a video gamer?
I've gotten to play the multiplayer version of Sword Coast Legends, so I expect the game to be what I experienced: action-packed adventures inspired by the tabletop roleplaying game. When I played, my wizard wandered off on his own—he didn't get the memo about not splitting up the party—and he was reduced to a stain on the floor when the DM caused monsters to flood into the room. The wizard learned his lesson after that!

Until now, D&D was a story-focused product for the new edition, choosing to describe gaming worlds mainly via stories. Which are the reasons behind that choice?
At its core, D&D is a cooperative storytelling game of fantasy adventure. Rules come and go, but the worlds and stories of D&D stick with people for years. For example, a person might play the tabletop roleplaying game for decades and forget how critical hits worked in the previous four editions, but that person almost never forgets the thrilling stories created around a game table with friends. Our work is focused on facilitating the creation of those great moments, those memories.
Story First is one of our mottos. It affects everything we do, including how we present our worlds. Whenever possible, we want to show our characters and settings in action. Sometimes we tell you about them too – as we do in the Sword Coast Adventurer's Guide – but we want that information to have a good chance of syncing up with the adventures you can play.
One of my favorite introductions to a D&D setting was back in first edition. I bought Dragons of Despair, the first Dragonlance adventure, and began running it for my friends. The thing that I remember to this day is that the adventure and its sequels showed us Krynn and the War of the Lance, rather than just telling us about them. Getting to see a setting working hand-in-hand with a story inspired my later world-building like nothing else did. I say that as a longtime home brewer—I write all my own adventures for my homemade world—who gets tons of inspiration from seeing other creators' settings put to use.
D&D is now displaying itself on pen-and-paper, videogames, miniatures and even movies. With all this media weaved within one another, it's a Marvel-type way of business, with movies and videogames bringing in new audience for the core of the brand, the pen-and paper. Do you fear that the simplification of the new edition for that kind of audience could repel the more experienced gamers?
My work is focused on the tabletop roleplaying game, and it is designed to appeal to its fans. When we were designing fifth edition, we had a principle that guided our work on each character class: make the class for the person who likes that class. The cleric, for instance, was designed for people who like playing clerics, not for people who'd rather be playing something else.
Our view of our different products is similar. We make each one for the people who like that type of D&D experience. We love it when a video game player tries out the tabletop roleplaying game and when a tabletop player wants to give a D&D video game a whirl. But each of those experiences is designed first for its greatest fans.
What's the short and long term future for D&D fifth edition?
For the next few years, our goal is to keep releasing products for fifth edition that people enjoy using in play. And we have many more stories and game options that we look forward to unveiling!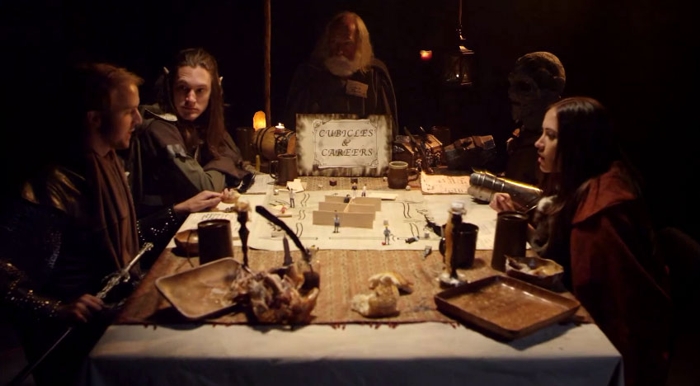 We would like to thank again Jeremy, and save the date with him at Lucca. Maybe he'll have some other hat trick, or better some +1 weapon out of a Bag of Holding!
– Luca Tersigni –
Potrebbero interessarti...

Pronti al giuramento, amici Paladini? L'Unearthed Arcana di oggi è tutto per voi!

I Background, o Formazioni, sono una novità di D&D 5.0, nati con l'intento di sviluppare spunti di gioco per Master e giocatori: ecco quelli che vi consigliamo!

Cubicle 7 Entertainment e Sophisticated Games annunciano l'arrivo di una nuova linea di prodotti dedicata a Il Signore degli Anelli per D&D 5.0
Interview with Jeremy Crawford, creator of D&D 5.0