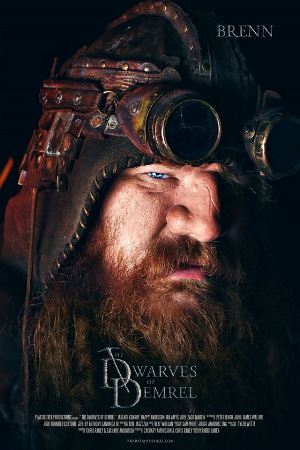 Per leggere questa intervista in italiano, cliccate qui.
Hi everybody, Illyoners! Today we are going to talk about 'The Dwarves of Demrel', an astonishing independent movie which melts fantasy and steampunk, dwarves and humans, caves and mysterious creatures, to be released in Spring 2016. Sincerly intrigued, we've reached Chris Raney, director of 'The Dwarves of Demrel' and – along with his friend Zachary Amundson – writer and producer.
Okay, Chris, here we are. Let's go straight to the point: would you like to explain what 'The Dwarves of Demrel' is, what is it meant to be and what is it going to be? Can you tell us about the source of the idea, if there's any?
So to start things off this is the synopsis for the film: "In this steampunk, fantasy adventure, a collapse imprisons three dwarven miners who must now work collectively to combat starvation, despair, and a mysterious creature. Further complications arise when one of the dwarves learns of their joint, morbid fate and must decide whether to tell the truth, or keep it a secret and preserve hope."
The idea of the dwarves (as opposed to orcs/elves) really came out of a financial reasons. Both of us knew that a dwarven location could be found easily – all that we needed was a mine, and there are plenty of those. Creating a convincing elven forest on our budget was simply out of the question. A mine is a much more manageable set. Most of the work is already done for us. The mine we are shooting at, has about 1 1/2 miles of underground tunnels for our characters to explore. The problem with most independent/low budget fantasy films is they are trying to achieve spectacles beyond their financial means. The film is keeping things simple enough for us to focus and get everything right.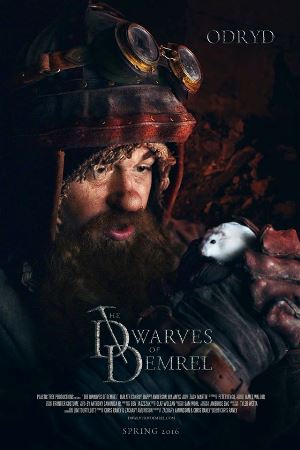 What kind of movie is it going to be? I mean, is it going to mix fantasy and steampunk elements, as it may seem from the teaser and concept design? Will it be an action-themed movie? What themes will if feature, eventually?
Yes, the steampunk elements play into the plot of the film, which is, a human run country known as "The Capital" has bought out a dwarven mine, and they are introducing these new mining technologies into the mine so the viewers will see this clash of traditional dwarven culture mixed with the industrial steampunk elements brought in by the Capital. We would classify it as more of a "thriller", these Dwarves are fighting against the clock to escape the mine before they starve, and also a mysterious creature wants to eat them.
Our "theme" really came out of a reaction AGAINST a common theme, which is that "individuals put in dire situations always turn on one another". We don't believe this to ALWAYS be the case as so often portrayed in films. We referenced the Chilean Miner incident a lot for the project. These men were trapped for 69 days together, and managed to cooperate despite strenuous conditions, no one was murdered, no one was harmed. The dwarves have to overcome some personality differences, but they don't turn on each other which was a key theme for us, that "humans" are also cooperative.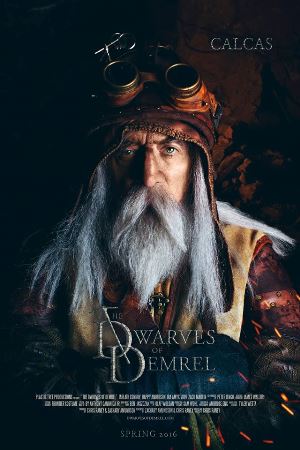 Let's talk about production and cast. Who is involved? Are you planning to use a lot of CGI or are you focusing on acting?
CGI is very expensive as you can imagine, we are an independent film so we are focusing more on the story and characters than SFX. Even some hollywood films that have big CGI budgets still fail in our opinion. There is a creature in the mine but that will be a built and be a prosthetic creature (as opposed to digital). Although there won't be much in terms of Digital SFX, this is a fantasy film so we want there to be as much spectacle as there can be. People have certain expectations with the fantasy genre, and we will fulfill them!
We can say that 'The Dwarves of Demrel' is and independent movie, then. How does it reflects on the way you approached this work? Did you need to raise funds with crowdfunding to start this project?
We have thus far, financed the movie entirely with our own money. We will be running a Kickstarter campaign this month in fact to raise money. When the Kickstarter is launched we will release our first official teaser from what we've shot thus far. The Kickstarter campaign will focus on raising money to enhance the mine with dwarven architecture (pillars, tables) and also help finance the construction of some steampunk generators/set pieces!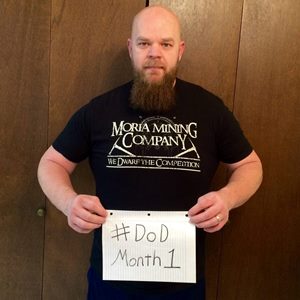 So the movie is scheduled to be released in Spring 2016. Do you think you are going to meet the deadline? (Is Joshua Green, the fan of the project who vowed not to cut his beard until 'The Dwarves of Demrel' release, worried about it?)
Joshua Green […] is not worried! Haha! We have already shot in the mine for 1 month this past winter, it has taught us a lot and given us a lot of confidence moving forward for our final shoot this coming October/November. We are extremely confident that the film will be completed by March 2016,
Score is important for every movie, but maybe for fantasy movies especially. What can you tell us about 'The Dwarves of Demrel' musics (I loved the score you used for the teaser trailer)?
We are discussing the score almost daily with our composer Zack Martin. Very much similar to the set design (which is a clash of old traditional dwarven architecture vs. industrial steampunk devices), the score will also incorporate more technologically advanced sounds such as Synth/Electronic elements while being contrasted with traditional string instruments such as violins/basses. The music will fight against itself (in a good way) as the set design will.
How are you dealing with distribution? Do you think we are going to watch this movie in Italy, too?
We are planning for a limited theatrical release (NY/LA) in the US. We REALLY hope that Netflix will soon work out negotiations with Italy so it would be available that way. iTunes would likely be the easiest way for the European countries to view the film legally.
We do thank Chris Raney and all the other guys involved in 'The Dwarves of Demrel' production for this interview and we wish them good work… in the meantime, we eagerly await every news about the film! If we've aroused your curiosity, don't forget to follow 'The Dwarves' Facebook page and their official website!
Dwarves are coming!
– Stefano Marras –
Potrebbero interessarti...

Esclusiva intervista al regista del film fantasy indipendente 'The Dwarves of Demrel': cosa accade quando tre nani rimangono imprigionati in una miniera?
The Dwarves of Demrel: an interview with Chris Raney